4 Successful Local Line Websites to Inspire Your Own
Websites are crucial for your business. It allows you to carve out a piece of the Internet for yourself, grow your audience, strengthen your brand, and generate leads for your business.
Having a website means you'll show up in local search results on Google, it acts as the foundation and landing page for your digital marketing, and it improves your brand's credibility.
These businesses do a great job of including:
Clear branding
Consistent colour palette
Images and fonts complement the brand
Social links
Seamless embedding of Local Line platform into their site
Calls-to-action throughout
Custom domains
High-resolution imagery
4 Exceptional Website Examples:
1. PickaFlor
PickaFlor offers fresh-cut flowers in Winnipeg, Manitoba. They are a wholesaler and provide their customers with high-quality and superior products.
The cover photo on their homepage immediately pulls you in and sets the tone for their entire website. They also use a different cover photo for each page which showcases the variety of flowers they sell and visually draws the viewer in.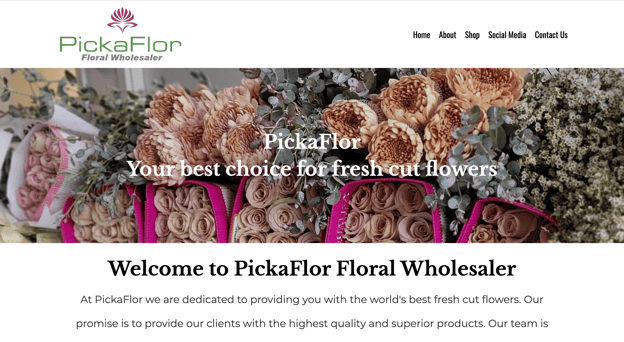 PickaFlor does a great job of using complementary fonts. Additionally, they included their logo, which creates clear and consistent branding. It is clear what they sell immediately when opening their home page.
Furthermore, they use their About page to tell their customers who they are, what they provide, and give background to their history. Their story is short and concise and includes all the necessary information.
2. Deep Roots Farm
Deep Roots Farm produces sustainably-grown fruit and vegetables in Little Cove, Pennsylvania. They are dedicated to growing food for their family and community without the use of pesticides and chemicals.
They have an incredibly informative site. Their veggie descriptions are organized alphabetically and include recipe links below each item (!).
A consistent CTA in the footer encouraging visitors to sign up for their weekly vegetable box no matter which page they're on. They also include important information about the coronavirus at the top of their home page.
Though their About showcases their family photos and the values of their farm. This gives the reader insight into how they operate their business and how important producing quality food is to them. This is an excellent angle to convey what they're all about and make sure they're attracting the right audience.
3. Strawberry Hill Farm
Strawberry Hill Farm is an organic farm located close to central and southern New Brunswick. They offer vegetables, meat, and eggs to their customers.
Their farm has a great homepage. On it, they describe who they are, what they sell, where they're located, and include four CTAs: "Shop," "Shop Now," "Choose delivery or pick-up," and "Join our mailing list."
Their "Shop Now" button is the first thing you see when you open their home page!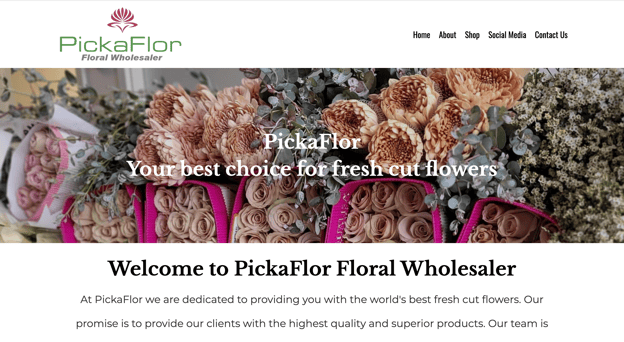 On Strawberry Hill's About page, they include background information about each product type. As transparency is very important in local food, this provides the customer with everything they need to know about what they are purchasing.
They also include family photos throughout the site. This allows visitors to connect with the farmers and offers another level of transparency into who they are as a business and put faces to names.
4. Laughing Duck Farm
Laughing Duck Farm is located in Auburn, California, and produces everything from fruits and vegetables to eggs and household products. They are focused on regenerative farming, heritage/rare breed & dual-purpose animals, nutrition, and education thru classes & permaculture consulting.
This farm has an About page that tells the unique story of their business. The owner includes a message directly from her about why she started farming. Also, they include clear instructions on how the ordering process works and includes a CTA to allow the customer to "Get Started."
The Community page is a great touch. It includes other farms and farmers they have partnered with to bring local food closer to their customers. They do a great job of making sure this information is readily available to visitors.
Laughing Duck Farm uses beautiful, large headers on every page. They also have their pronounced Shop button in the header, which is accessible from every page.
Website Design Best Practices
Keep these tips in mind when you're creating your own website:
Use high-resolution images to ensure a positive user experience (ideally, your images will be product images, but using royalty-free stock photos work well too and can be used in a pinch)
Include CTAs throughout to keep visitors moving through your site. Your goal is to turn visitors into customers, so telling visitors exactly which actions to take will help convert them!
Social links in the footer, header, or on the "Contact Us" page
Custom domain
Consistent fonts and colour palette
---
Create a beautiful, FREE website for your farm!
Or have us do it for you! Simple, affordable packages to help you turn browsers into buyers.