Get the most out of your Local Line account! Using all the features to the fullest will allow you to maximize your experience and manage your business seamlessly and effectively.
As a team, we've compiled the 7 best Local Line tips to help you learn more about what the platform does and find the best system for your business.
7 Local Line Best Practices:
1. Price List Schedules
Local Line users with a price list schedule enabled see 3x as many orders in their store, and their average order size is 53.1% greater!
The price list schedule feature allows you to send automatic emails with the respective price list to your customers on a weekly basis. So, if you're using price lists, you might as well set price list schedules! It keeps the communication open between you and the customer and makes it easy for them to order directly with the link to your storefront in the email.
Here's how to set up your

price list

schedule:
Click on the Price Lists tab on the navigation pane. When you create a new price list or edit an existing price list, you will have the option to create a personalized price list schedule for that price list.
Turn the toggle to ON beside Price List Schedule
Enter a custom email subject line and message in the boxes
Select your frequency (weekly or monthly) and the day and time you want your

price list

to be sent to customers
Click the Save button. You can go back to this section at any time to update your price list schedule.
How to make the most out of your price list schedule:
Timing
Think about when your customers are most likely to check their email and send your price list then. Set that as the time of day your price list will be sent out.
Personal Message
Take advantage of that message field! Try adding in a story from the farm that week or a new recipe you have been loving featuring your products. These are great ways to engage your customers! Just remember to click on and change that message before the next price list is set to be sent out, so your customers don't receive the same message twice. 😊
Message Examples:
Use these message examples as templates for your own price list schedules:
Happy Monday! Here's what we're harvesting at [Business Name] this week. Be sure to place your orders before 5:00 pm on Thursday evening for Saturday pickup at the market.

We've added Honeycrisp apples to our online store! Our favourite way to enjoy them (other than as-is; they're so delicious), is using our family recipe for Baked Honeycrisp Apples. (Recipe to follow).

Love our heirloom tomatoes? They're on sale this week! 20% off until Friday—order yours before they sell out. 🍅

Good morning! Here's what's for sale this week at [Business Name]. Can't make it to the market for pickup? We've now added a contactless delivery plan to our storefront! 🚚 When you check out, select "Delivery," and choose your delivery date.
2. Using Store Credit for Promotions and New Customer Incentives
The store credit feature allows customers to pay for their order using store credit. It can be used for CSA or farm credit, pre-paid orders, refunds, and more! But we think that store credit is also a great way to run promotions and contests for your customers! Everyone loves free stuff. Consider running a contest for your customers to encourage online sales.
Customers are able to pay for their orders using the store credit attached to their account.
Bonnie from Richfield Farmers Market ran a contest for her market. The first 150 customers to share a certain post and sign up to their online store received $5 towards their first purchase, and one lucky winner received a voucher for $50. The store credit feature allowed the team to update these credits to the correct customers in the system. By running this program, they saw a huge increase in new sign-ups and online orders!
Here's how to set up store credit:
Go to the Customers tab.
Select a customer by clicking the box beside their name. Click Action > Edit Store Credit.
Type the store credit amount in the Add to account balance box.
Click Save.
3. Update Payment Options
Payment options allow you to customize the payment methods you accept when customers order. For example, you may want to offer credit card, cash, e-transfer, or SNAP coupons as payment options when customers check out. By updating payment options, you can keep track of customer payments all in one place. When you download your order reports, payment option will show up in the spreadsheet.

Add a payment option:
Go to the Payment tab.
Click Add payment method.
Specify the Payment method name.
Specify the Instructions.
Specify which Price List(s) the payment option should be applied to.
Click Save.
4. Product Discounts
Looking for ways to sell seasonal products or move extra inventory? Offering product discounts can be a great way to sell out quickly! Local Line allows you to apply discounts to products directly on your online store. This makes it easy to quickly adapt pricing depending on inventory levels.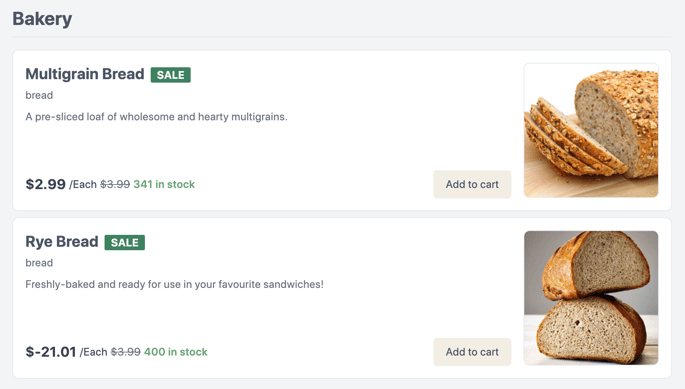 To apply discounts on products:
Click on the Price Lists tab.
Click on the price list where you wish to add a discount. Click on the options button located in the right-hand corner and click Edit Settings.
Scroll down to Payment section and toggle on Display Discounts option. Click Save. Note: If this is toggled on, all products that have a price adjustment in that price list will be shown in the storefront.
Scroll down and toggle on the Adjustment field beside any products you want to offer a discount on. The discount will always display as a percentage to the customer, but you can choose to set the adjustment as a percentage or dollar value (the system will automatically convert to a %). Remember to add a negative sign (-) in front of the value.
Click the 'Save' button
Your customers will see this when they shop your online store.
Note: It is always good practice to view your store after making a change to make sure you like the way it looks!
5. Open and Close Your Store
Need some time to make adjustments to your online store, or taking the week off? You can easily temporarily turn your store on and off when needed. If you flip the off switch, customers will not be able to make orders until you turn the store back on.
To close your online store:
Click Storefront > Open/Close Store.
Turn the toggle to Store Closed. You can also add a Custom Store Closed Banner
Your store will now say Closed when customers go to shop. Take the same steps to turn your store back on.
6. Frequently Visit the Reports Dashboard
Local Line offers real-time dashboards and reports so you always know how business is going. Reports by product, customer, order, delivery locations, and more means you'll know all the good and the bad, and be able to make the right decisions for you.
To access your reports, click on the Reports tab.
---
For even more help with farm data, be sure to download our new handbook:

The Direct Farmer's Data Handbook
What to track, why, and what it means as a direct-market farmer.
Use this handbook to give you more meaning to the numbers that farms should be tracking in order to really see what is happening with their business.
---
7. Seasonality and Visibility
Did you know you can update the seasonal availability of products automatically? By turning on the seasonality function, you can select the start and end dates for certain products. This will ensure customers never order products out of season!
To enable seasonality, simply turn on the Seasonality toggle and select the Start and End dates using the calendar pickers. Seasonality can be turned on and off and dates can be updated at any point.
The visibility also allows you to remove products from your available products without deleting it fully from your price lists. It will remain in the price lists you've added it to, but will not be visible to customers or available for purchase.
To enable visibility, simply switch the Visibility toggle to off. If turned off, this item will be visible to you and grey in colour.
Note: fully deleting a product will cause it to be removed from all previous order invoices. Instead, simply turn off the visibility of the product to remove it from your storefront and from your customer's view.
---
Running your business is hard work. We want to help make it a little bit easier.
Try Local Line for yourself for free today!
Used by all types of local food suppliers, Local Line helps you sell online, communicate with customers, and manage your business all in one place.