The Local Line platform has a whole new look! We are very excited to announce that our new storefront is now live on all Local Line accounts.
Here are its new updates and features:
1. Improved Shopping on Mobile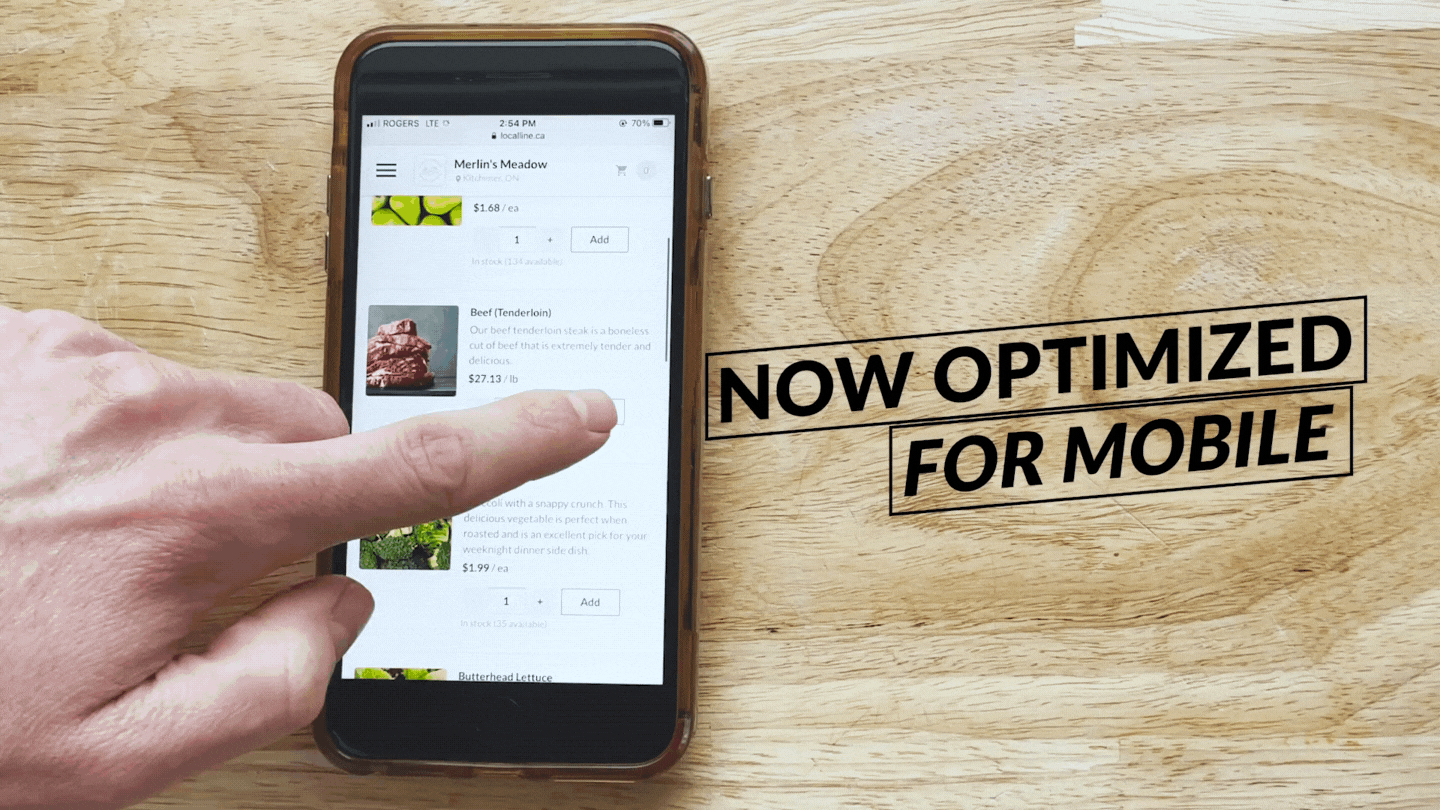 Over 50% of online shoppers shop through mobile. In other words, it was essential to give our platform a little mobile update!
Now, shopping is more streamlined, allowing you to cater to your mobile shoppers. The header navigation will house links in a tappable drop-down menu, and the shopping cart will be accessible from the top of your screen wherever you are in the storefront!
2. New Storefront Header
We know how important it is for customers to see their shopping cart at all times. The updated header navigation now includes the shopping cart fixed to the top of the screen. No matter how far you scroll, selected items and a sub-total will always be visible. Whenever they are ready, they can simply click on their cart and proceed to checkout!
3. Guided, Easy-to-Follow Checkout
The updated checkout will guide customers every step of the way. It will feel familiar, but be more clear as it prompts the user to focus on one aspect at a time!
4. Seamless Searching Through Product Categories
An organized storefront is essential, and helps your customers find your products quickly and easily. Product categories (or vendors, for market accounts) are located vertically on the left so that customers as customers scroll through your products, they can easily access other shop categories.
5. Personalized Branding
Your online store is 100% yours. We have removed all Local Line branding from the storefront to allow your business to be front-and-centre
Add your logo to the header and update your in-store message to personalize your store!
We're so excited to share our updated storefront with you. These new updates will improve your customers' overall shopping experience, and allow them to shop from any device, at any time.
For a full demo, check out the video below, or start your free trial now!
6. Display Out of Stock Items
Now you have the option to display any out of stock items. This is a great way to continue to show your customers what you carry, even if you currently have none in stock.
This is optional, and can be access through your storefront's settings.
If you'd like to send us feedback, please email product@localline.ca.
---
Get started with a free Local Line trial today!
Used by all types of local food suppliers, Local Line helps you accept online orders, communicate with customers, and manage your business all in one place.
Katie Kerrison
Katie is Local Line's Demand Generation Manager. She's all about brand awareness. New to Local Line? Katie likely helped you find us!
See All Posts