Offering your products to customers online is a convenient—and crucial—way to get fresh, local food into the hands of your community during these difficult and uncertain times. Ensure your community has continued, easy access to healthy, local food and necessities with an online store!
Here's how to launch and promote your farm's online store in less than three days:
Day 1: Launch Your Farm's Online Store
Now is the time to set up your online store.
Before anything else, get your storefront ready! Day 1 is all about getting organized. You want to set up your store for success, so this means creating supplier profiles and organizing delivery schedules. Be sure to get everything organized first before you launch.
Set Up Your Storefront
Create your account at localline.ca/signup and click Start Trial under For Sellers. It'll look like this:
Now that you have an account, your next step is to set up your online store branding. Your branding should match your product and existing market, and should be instantly recognizable as yours!
Store Settings
Click the camera under the

Cover Photo

heading to upload a cover photo, recommended 1280 x 300 px for best results. Simply click the photo again to replace it.

Upload a

Profile Photo

in the same manner, recommended 200 x 200 px for best results.

Fill in your business information (contact information, shipping and/or billing addresses, etc.).

Tell customers about your business in the About Us section. Describe what you sell, where you're located, what makes your business unique, and why they should buy from you.
Here's a great About Us example from our friends at Vibrant Farms:
Click the Save Changes button at the bottom right when finished!
Online Payments
Set your

Currency

(Canadian or US Dollar).

Select your online

Payment Getaway

, Local Line is integrated with both Stripe and Square.

You will be redirected to another webpage to log into your Stripe or Square account to make connection.
View Store
This will show you what your online store looks like to visiting customers. When viewing your store, it'll open in a new tab. You can simply close it when done reviewing.
Share Store
Here you will find and create your unique online store URL. Once you're ready, share this unique URL with your customers so they can easily place orders! A good rule of thumb is to use your market name: localline.ca/your-market.
Photo Gallery
Add photos to your store that add to your story and your brand as a whole.
Include photos such as your team, your process, your farm and your products. Without the opportunity for customers to see, experience, touch and smell your products.
Click on the camera icon, select photo, click "

Open

," and click the checkmark (top right of the photo to save selection).

To remove a photo, click the '

x

' to the right of the photo.
When creating your online store, be sure to fill out as much information as possible so your customers can learn about your business and what you offer. Ensure to Save where applicable.
Also, be sure to click View Store frequently to check your work and see what your store looks like from a customer perspective!
When creating your online store, be sure to fill out as much information as possible so your customers can learn about your business and what you offer. This includes sections like Ensure to 'Save' where applicable.
Also, be sure to click 'View Store' frequently to check your work and see what your store looks like from a customer perspective!
Add Products and Create Catalogs
To start selling, you need to add your products to your online store. On Local Line, there are two ways to upload: individually or in bulk.
Add Products Individually:
Click on

All Products

tab.

Click the

Download/Upload Products

button.
Add Products in Bulk:
Click the

All Products

Tab

Click

Download/Upload Products

button, opposite arrows icon

Download

Product Template

and open on your desktop in Excel

Fill in Product Template with product information

Save the template to your desktop

Back in Local Line, click the

Choose File

button

Select completed template file from desktop

Click the

Open

button

Click the

Upload

button to bulk add products in one upload.
Note: Any upload issues will be explained in a window, in this case you would make changes to the template file from desktop, save and re-upload.
Your product list now acts as your main selling tool. As your customers are no longer able to see, touch, or feel products, it's crucial to add images and descriptions to your product listings. The more information your customers have, the better!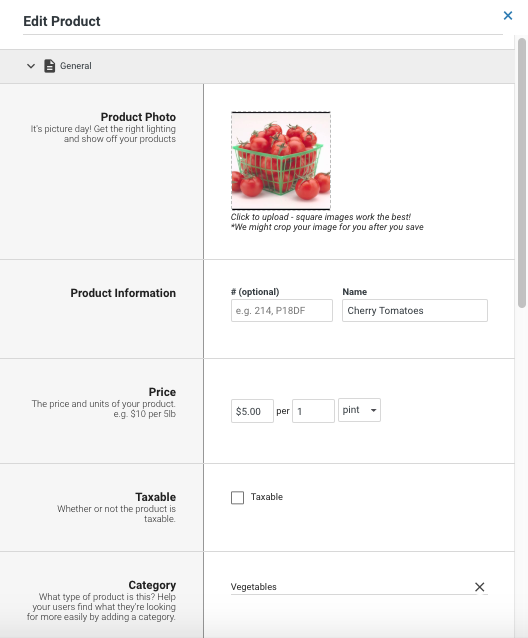 Set Inventory
Local Line allows you to track your inventory in real-time. We offer both Basic Inventory and Advanced Inventory. The steps below outline Basic Inventory. Click here to learn more about Advanced Inventory.
To set your inventory:
Enter your available product inventory in

Inventory Count

.

We'll send you a notification when your inventory gets low so you can re-stock. Just enter the number in the

Notify me when I get low

field.
You are also able to update your availability of products. Seasonality will allow you to make certain products only available for specific seasons or time frames. You can enter this information with the calendar picker.
Visibility will allow you to manually remove products from your available products. This can be done by switching the toggle to "Off."
It will remain in the catalogs you've added it to, but will not be visible to customers or available for purchase. If turned off, this item will be visible to you and grey in colour.
Assign Products to a Catalog
Catalogs enable you to organize products and privately set product prices, pack sizes and availability to the unique needs of your customers. Once you have added your products, you must assign products to a catalog to have them display on your storefront. To assign products to catalogs:
Click the

My Store

tab on the navigation pane. Then click the

Catalogs

tab.

Click the

Edit Catalog

button to the right of the catalog you wish to add products to.

Click the

View All Products

tab, found under the search field.

Type the product name you wish to add in the

Search for Products

search field.

Click the green checkmark to the right of the product name.

Adjust the price as desired.

Click

Save

.
After you've assigned products to different catalogs, you can create a catalog schedule! This will allow you to save time and remind customers to place orders by creating automated emails. No more emailing 100s of customers individually!
To make the most of your catalog schedule, consider:
Timing:

Think about when your customers are most likely to check their email. Be sure to send your catalog then and set that as the time of day your catalogs will be sent out.

Personal Message:

Take advantage of this message field. Try adding in a story from the farm that week or a new recipe you have been loving featuring your products. These are great ways to engage your customers, just remember to click on and change that message before the next catalog is set to be sent out!
Launch
After you've set up your store and added all of your suppliers, your store is ready to launch! You can do this by clicking the Launch button on the left side of your home page/dashboard. This allows your customers to view your online market.
Day 2: Promoting Your Online Store
Day 2 is for marketing! Now that your farm has moved online, it is important to let your customers know. Use this opportunity to attract new customers. You should reach your customers in all of your usual channels, such as:
Emailing
Social media
Word of mouth
Email Your Customers
As a farm, you have the ability to be able to add customers to the platform to keep them updated. If you have customer email addresses already, consider sending them an email to notify them of the recent switch online:
Hi [CUSTOMERS' NAME],

As you know, at [Your Business Name] customer service is our number one priority. We work hard to provide the best products and the best service for you. To continue to elevate our service offering, we will be introducing our own online ordering program, customized for you. It will contain your order history and a real-time list of all of our products and inventory.

The program works on all desktop computers as well as smartphones. Through this program, you'll always know what we have available and never be more than a couple clicks away from an order! If you would like to submit your next order with us online, here's what happens next:

Click this email link [Your store link/URL here] to register your account. It takes 2 minutes.
Once you register, you'll be taken into our online store to submit your first order.
When reordering in the future, our store can be found at [YOUR STORE LINK].

If you have any questions, I'm reachable at [PHONE NUMBER]. We look forward to continuing to service and grow with you.

[YOUR NAME]
Continue to update your customers regularly via email on changes in your delivery schedules, suppliers, and any other changes to your farm's online store.
Get on Social
Social media is the next place you need to start promoting your new online store. Create updates on all current social media channels to inform your customers about the recent switch.
Here are five ways to leverage your social media channels and reach your audience:
1. The power of hashtags
Use hashtags and geotags to reach others who are also searching for what you're posting, in the geographic areas you're tagging. Hashtags ensure that your content is seen by as many eyes as possible, not just your own audience. Here are some examples for inspiration:
#[yourcity]food
#[yourcity]fooddelivery
#[yourcity]localfooddelivery
#[yourcity]localfood
Use your delivery cities in as many hashtags as possible (not just the city your business is located in). Be as specific as possible and consider what people in your area might be searching for.
2. Share your posts to other platforms
Instagram lets you post across all other channels. Take advantage of Instagram's share feature and publish your Instagram posts to Facebook and Twitter, if applicable.
You may not have the extra time right now to be focusing on a social strategy or keeping up across all platforms, so this will ensure you're still maintaining a presence (and sharing the same message) on every channel.
3. Include calls-to-action
Don't forget to include calls-to-action on every single post! Because you can't sell directly on Instagram, it is crucial that your calls-to-action encourage followers and buyers to take that extra step of your online store.
Here are some examples:
Click the link in our bio to access our online store and buy online
We deliver to your door on Tuesdays and Thursdays! Place your order today at [YOUR URL HERE]. Link in bio!
DM us to let us know if there's someone in your community who would benefit from home delivery. If you know of someone elderly or unable to step outside their house, we'd love to reach out and help.
4. Be visual and transparent
Share as many product photos as possible. Because consumers cannot see, touch, or feel products, it's crucial that you showcase what is available. Use videos and photo posts—and don't forget Instagram and Facebook stories!
In addition to product photos, let your audience in your behind-the-scenes and show the process behind your products. Breaking it down communicates not only the hard work that goes into what's being sold but highlights that your customers know where their food is coming from. They're trusting the safety measures you're taking with your product.
5. Update your Instagram bio and Facebook page
Update your Instagram bio to inform current and future customers that you are still up and running! Your bio is one giant call-to-action, so use it to your advantage.
Consider text such as Shop fresh, local food from the comfort of your home. Place your order through our online store! Always be sure to include the link in your bio to your online store.
Also, remember to link your new online store to the market's Facebook page by adding a shop now button. This will make your online store even more visible to visitors. Here's how:
Login to your Facebook admin site
Hover over the blue button [could read "Shop Now" "Send Message" "Call Now"]
Click the Edit button
Click Shop
Shop Now
Next
Website Link
Copy and paste your Local Line store URL
Make sure to announce your Shop Now button on Facebook and repost so followers know it's there. You should also include it in every post!
Word of Mouth
Word of mouth is extremely powerful. Leverage this by implementing tools to promote word of mouth amongst customers.
Ask your audience to share
Ask your audience to share your info or posts with their friends and family. It helps everyone get involved. If they're happy with your products and service, we're sure they'd be happy to do so!
Create a competition
Create a "best picture" contest! Ask your customers to share their #socialdistancing cooking photos or their weekly food orders and share them on your social media channels. This will increase social proof, and help spread the word that you are up and running! Maybe even offer a discount or special offer to customers that are most creative.
Referral Program
Consider implementing a referral program among customers. Referrals are a great way to promote word of mouth. The most trusted reviews are those that come from a friend. You should be tapping into your existing customer network to get new customers. If you want to get started with a referral program, check out this blog post.
Day 3: Start Selling
It's go time! You've set up your account, added your products, and have been marketing your online store—you're ready to start selling.
As always, if you have any questions about getting started, the Local Line team is here to support you!
Happy selling!
---
Take your farm online today with a free Local Line trial.
Local Line is the best way for your food business to keep operating and selling during COVID-19. Use Local Line to set up an online store and offer home delivery to your customers.